I've been wanting to do doll clothes for a while. I like making clothes, but the whole, making-it-to-fit-people takes forever and lots of yarn and I get very BLAH with it about halfway through. Doll clothes, though…
So I got myself an 18-inch doll on Ebay (and ended up getting two), and set about making…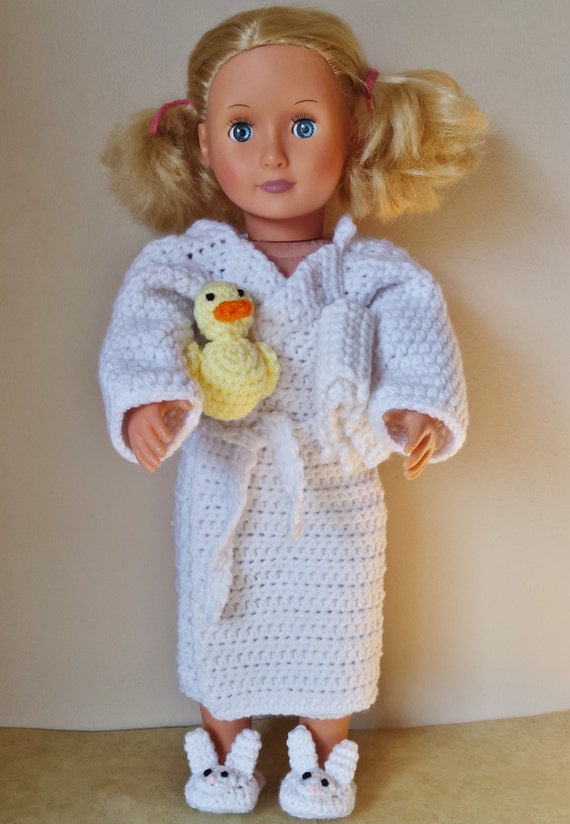 That's Molly. She's all warm and snuggly in her bathrobe and bunny slippers. I made the bathrobe to fit loosely so that when I make her pajamas (which my daughter is INSISTING I have to do) they'll fit underneath. Pattern available on Ravelry and Craftsy.
The other doll, Amanda, is getting a Dorothy (Wizard of Oz) outfit and Toto. I intend to start that soon.
Right now, though, it's [winter holiday] season! I've promised to make Kreacher and Olaf for my kids, and I have [redacted] to make for a friend for a Secret Santa thing, so that'll be taking up my time in the immediate future.
Also, news for the future, I'll be re-opening my The Craft Frog shop for finished things. I'll be selling most of my samples and other assorted goodies because bills don't pay themselves!!