Well, maybe not.
A year or two ago, I ran into a picture on Facebook of Glaucus Atlanticus. I had no idea what it was, but I was all, "Oooh, pretty!" Of course, not knowing what it was, I didn't have much luck tracking it down. It came up a little while after that and I knew it was a nudibranch (sea slug), but there are more than 3000 species of nudibranch so I was all, "NEEDLE IN A HAYSTACK!" and gave up. And then… Last week, someone posted a picture of it and said what it was and I was all, "I NEED TO MAKE THAT."
So I made one.
And there it is. I loves it. It is the largest thing I've made to date, at 14″ long. I made it backwards from what I usually do. Usually I start with the body and work out. With this one, I started with the cerata (fingery/tentacly things) and worked in.
Glaucus atlanticus is also called the sea swallow and blue dragon, among a bunch of other names.
Pattern available on Etsy and slightly cheaper on Ravelry.
I also made another dishcloth pattern, it's lungs this time!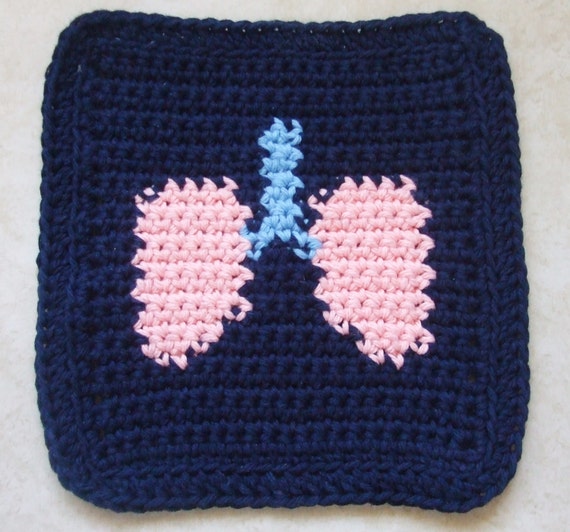 Lungs! Pattern on Etsy and slightly cheaper on Ravelry.